Real Estate Prayer Breakfast 2022

Due to the COVID-19 issues, this event has been postponed to Thursday, April 28, 2022.

Thursday, April 28, 2022
Cobb Galleria Centre
6:30am – 7:00am: Networking
7:00am – 9:00am: Breakfast and Program

Keynote Speaker:

Patti Callahan Henry
New York Times and USA Today Best Selling author, speaker
If you are interested in being part of the Host Committee and purchasing a table (10 seats - $600) or half table (5 seats - $350), please contact admin@realestateprayerbreakfast.org or call Cindra Vaden at 404-271-9070.

About Patti Callahan Henry: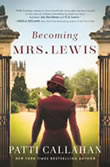 To fully capture and convey the story of Joy Davidman Lewis, Patti Callahan Henry retraced Joy's steps from New York to Oxford. Patti's extensive research is both documented and imagined in Becoming Mrs. Lewis.
Patti is a New York Times and USA Today bestselling author of novels. A finalist in the Townsend Prize for Fiction, an Indie Next Pick, an OKRA pick, and a multiple nominee for the Southern Independent Booksellers Alliance (SIBA) Novel of the Year, Patti is a frequent speaker at luncheons, book clubs and women's groups.
The mother of three children, she now lives in both Mountain Brook, Alabama and Bluffton, South Carolina with her husband.
---
Past Prayer Breakfasts
2019 - Mo Isom
Mo Isom is a New York Times Best Selling author, a nationally sought after speaker, and a faith-based blogger who is widely recognized as a powerful female voice rising up for her generation.
Speaker Bios and Video
2018 - Ernie Johnson
Three-time Sports Emmy Award winner Ernie Johnson Jr. is in his 28th year with Turner Sports, serving as host and play-by-play announcer across Turner's NBA, MLB, NCAA March Madness and PGA coverage.
Speaker Bios and Video
2017 - Regi Campbell
An experienced investor, author and entrepreneur, Regi Campbell has served as CEO of four startup companies and involved in 14 other startups.
Speaker Bios and Video
2016 - Tom Douglas
Tom Douglas is a songwriter who has written many number one hits for headliner country music artists such as Tim McGraw, Martina McBride and Lady Antebellum, and was inducted into Nashville's Songwriters Hall of Fame in 2014.
Speaker Bios and Video
2015 - Louie Giglio
Louie Giglio is Pastor of Passion City Church in Atlanta, Ga, and the Founder of Passion Conferences, a movement gathering collegiate-aged young people since 1997 in events across the US and around the globe.
Details
2014 - Mark Richt
Richt is the head football coach of the University of Georgia. He is one of only six coaches in history to win two SEC championships (2002, 2005), and in 2010, Richt was named to the American Football Coaches Association Board of Trustees.
Details
2013 - Joel Manby
Joel Manby is President and Chief Executive Officer of Herschend Family Entertainment Corporation (HFE), which develops and operates entertainment, tourism and hospitality properties in 10 states and is widely recognized as the premier privately held theme park operator in the United States.
Details
2012 - Bill Curry
As a Two-time Super Bowl Champion, National Coach of the Year, Two-Time NFL Pro Bowl player, Author and commentator to a worldwide audience on ESPN, when Bill Curry talks of discipline and success, his life experience is proof-positive of the effectiveness of his methods.
Details
2011 - Jeff Foxworthy
Jeff Foxworthy is one of the most respected and successful comedians in the country. He is the largest selling comedy-recording artist in history, a multiple Grammy Award nominee and best selling author of more than 26 books.
Details

2010 - Patrick Morley
For three decades, Patrick Morley, author of the book The Man in the Mirror, has been regarded as one of America's most respected authorities on the unique challenges and opportunities that men face, impacting more than 10,000,000 lives worldwide.
Details

2009 - Jeff Kemp
For eleven seasons, Jeff Kemp was a National Football League quarterback with the Los Angeles Rams, San Francisco 49ers, the Seattle Seahawks and the Philadelphia Eagles. He delivered his best performances in 1984 when he quarterbacked the Rams and led them to the playoffs, and in 1986, where he threw eleven touchdowns for the 49ers in six games.
Details

2008 - H. Wayne Huizenga, Jr.

H. Wayne Huizenga, Jr. is the President of Huizenga Holdings, Inc., a diversified company that manages and owns the Miami Dolphins of the National Football League and Dolphins Stadium in South Florida as well as investments in banking, resorts, marinas, yacht refit and construction, real estate and outdoor advertising.


Details

2007 - Zell Miller
Out−spoken U.S. Senator, nationally−acclaimed governor, best−selling author, university professor, dedicated Christian, and U.S. Marine Sergeant. That only begins to describe Zell Miller, one of the most popular, colorful, and enduring political figures in America today.
Details

2006 - J.C. Watts

J.C. Watts is the chairman of the J.C. Watts Companies. As chairman, J.C. provides strategic focus and program leadership to the firm's business engagements, alliances and initiatives. He works with clients to implement business development, communications and public affairs strategies. He currently leads a strategic alliance with Fleishman-Hillard, America's largest public relations firms.


Details
2005 - Sherron Watkins Sherron Watkins is the former Vice President of Enron Corporation who alerted then-CEO Ken Lay in August 2001 to accounting irregularities within the company, warning him that Enron 'might implode in a wave of accounting scandals. She has testified before Congressional Committees from the House and Senate investigating Enron's demise.
Details
2004 - Darrell Scott Darrell Scott is the father of Rachel Joy Scott, one of the victims at Columbine High School on April 20, 1999. His son, Craig, was in the library that day and watched as 10 of his classmates were gunned down. Two of his close friends died beside him, and his sister, Rachel was killed just outside the library door, a few yards away.
Details
| | |
| --- | --- |
| © Real Estate Prayer Breakfast. All Rights Reserved. | |